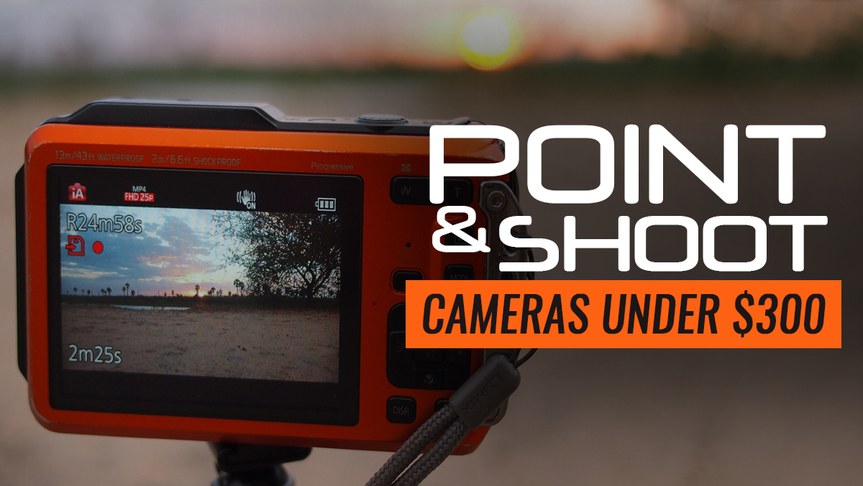 Within the mid-price ranges, you can choose between entry-level SLR, or feature-packed point and shoot models – even waterproof models are available.
Read our reviews which compare the top cameras under $300 – with models from the popular makers Sony, Canon, and Nikon. Our list is always updated as new models are released, and their pricing hits the mark.
Top 5 Point and Shoot Cameras under 300 Dollars
#1 – Canon PowerShot SX720 HS Review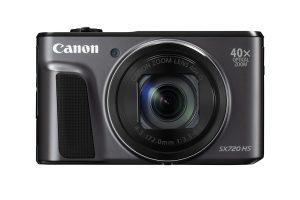 The Canon PowerShot SX720 HS is an easy to use compact camera that doesn't skimp on image quality.
Megapixels: 20.3
Sensor size: 6.17 x 4.55 mm
Weight: 10.58 oz.
What We Like:
Full Manual Exposure and Focus control
40x Optical Zoom for excellent subject coverage
Focal system design is great – there's rarely any need to disable Auto mode
What We Don't Like:
No RAW image capacity
f/6.9 at maximum focal length is a fairly small aperture
Perfect for capturing vacation videos to birthday party snaps, the high-zoom, compact-body PowerShot SX720 HS camera is an Amazon bestseller. Combining advanced features with a simple interface, the SX720 camera can handle all sorts of shooting situations.
Canon's brilliant 40x Optical Zoom provides maximum flexibility for composing still images and the vibrant 1080p Full HD resolution takes your video to the next level. And with Intelligent IS and Zoom Framing Assist you can keep even high zoom shots clear and stable.
Canon's SX720 is a fantastic point and shoot camera and well worth considering.
---
#2 – Canon PowerShot ELPH 360 HS Review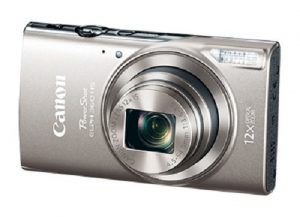 The Canon PowerShot ELPH 360 HS is an ultra-compact that has incredible versatility for such a little camera.
Megapixels: 20.0
Sensor size: 6.17 x 4.55 mm
Weight: 5.19 oz.
Manual focus control
Ultra-compact dimensions (3.94 x 2.28 x 0.91 in) allow you to take this pocket-sized camera anywhere
Extremely affordable price
What we don't like:
No RAW image shooting
12x optical zoom has less reach than other compact cameras listed
No Manual Exposure mode
Poor battery life at 180 shots per charge
The ELPH 360 does not have the zoom range of some of the other cameras here because the lens has to stay compact to keep the body thin. But it does bring quality photography in a much smaller package. The ELPH 360 is also much cheaper than the other cameras.
---
Best Bridge Camera under $300
#3 – Panasonic LUMIX DMC-FZ70 Review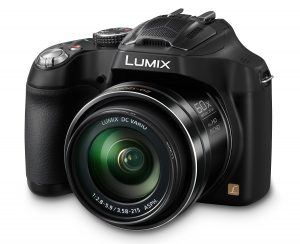 The Panasonic LUMIX DMC-FZ70 is the heaviest camera here but has incredible reach for even a bridge camera. If portraits are your priority you can't go wrong with this camera.
Megapixels: 16.0
Sensor size: 6.17 x 4.55 mm
Weight: 21.38 oz.
Outstanding battery life (400 images per charge)
60x Optical Zoom gives an incredible reach
23 focus points
What we don't like:
Relatively heavy with DSLR styled body
No articulating or touchscreen or Wi-Fi capability
Overall Panasonic tends to make incredible cameras and the Panasonic LUMIX DMC-FZ70 is no exception. It is a great entry-level bridge camera for beginners looking to take their first steps into the world of photography. The DMC-FZ70 is capable of taking superb images in a wide range of situations using a powerful 60X optical zoom lens (20mm-1200mm).
---
Best HD Video Camera under $300
#4 – Nikon COOLPIX L840 Review
The Nikon B500 is a classic example of a bridge camera. Bridge cameras have point and shoot features like amazing optical zoom and a fixed lens but are designed to look like DSLR cameras.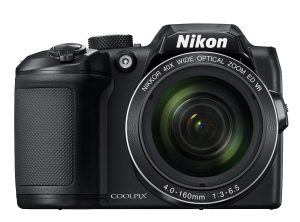 Megapixels: 16.0
Sensor size: 6.17 x 4.55 mm
Weight: 19.08 oz.
40x Optical Zoom gives the Nikon B500 amazing reach
Manual Exposure mode for full control over aperture and shutter speed
What we don't like:
Autofocus only; no manual focus mode
No RAW image shooting
The B500 weighs almost as much as the average DSLR.
Long zoom, plus built-in Wi-Fi and NFC, all come together in the Nikon Coolpix B500 to help you take your still photos and HD videos to the next level. Never miss a portrait again with the 40x optical zoom telephoto NIKKOR glass lens.
---
Best Underwater Camera
#5 – Fujifilm FinePix XP120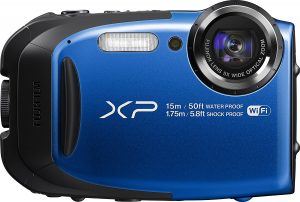 If you spend a lot of time in or around the water the XP120 is exactly what you need for quality photography in challenging environments.
Megapixels: 16.0
Sensor size: 6.17 x 4.55 mm
Weight: 7.16 oz.
Outstanding battery life (400 images per charge)
5x Optical Zoom lens with 23mm wide angle view
Weather sealing makes camera waterproof to 65 ft., freezeproof to 14F (-10C), shockproof from falls of up to 5.8 ft., and sealed against dust.
Smartphone remote controllable
What we don't like:
ISO sensitivity maximum of 3200
No articulating or touchscreen
5x Optical Zoom is low for a compact camera but the advantages of the all-weather sealing make up for it. Coupled with a light weight of only 7.16 oz. this is a camera meant to be taken on every sort of adventure.
Related posts