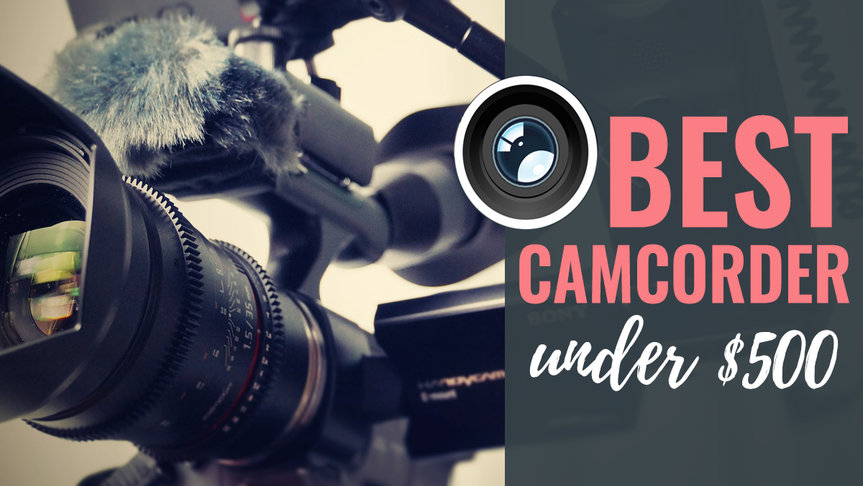 In this article, I'll review some of the top-rated Camcorders at the price point. These models are all reliable and most importantly create a top quality video.
After going through our research, we've created a list of the 'Best Mid-Range Camcorders' of 2019. Buyers rated these products better than the competition.
It's not easy finding a versatile video camera suited for a broad range of functions. If you're searching for the best five hundred dollar digital camcorders, we think you've come to the right place! Few other websites provide simple answers and reviews for the top affordable camcorder units.
Our selection criteria are stringent, and we update the Top 5 list if a better Camcorder hits the market.
Best HD Video Cameras under $500 Dollars
#1. Panasonic HC-V770 HD Camcorder
Best of class low-light camcorder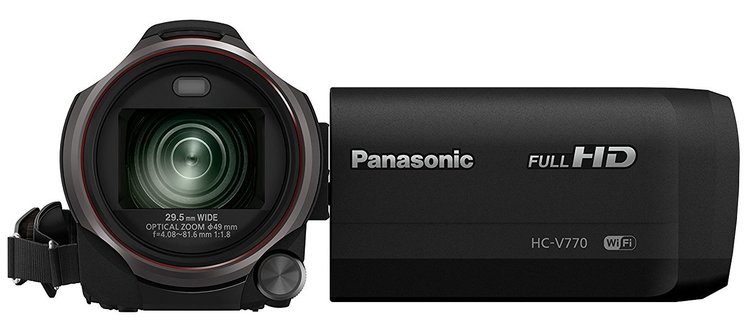 Pros:
Charges via any USB power source
Battery charges very fast, even with a standard phone USB charger
Tripod mounting threads
Hot Shoe adapter
Built-in camera includes flash and flood light
Cons:
4K recording isn't available in the base model
Video quality isn't ideal for environments requiring image stabilization
Calgary Riverwalk & Panasonic HC-V770 HD video test. Dave Cheung

Overall
The best Panasonic camcorder under $400-600, handy HD features, but you'll need to shoot in manual (rather than full auto (iA)) if you're expecting true color in low light conditions. Manual recording puts a stain on the standard batteries, so I'd recommend buying the extended batteries if you want to get technical and use all the Panasonic features.
---
#2. Sony HDRCX675/B Full HD 32GB Camcorder
Impressive 60x Zoom with stabilization and dual recording makes this product a beast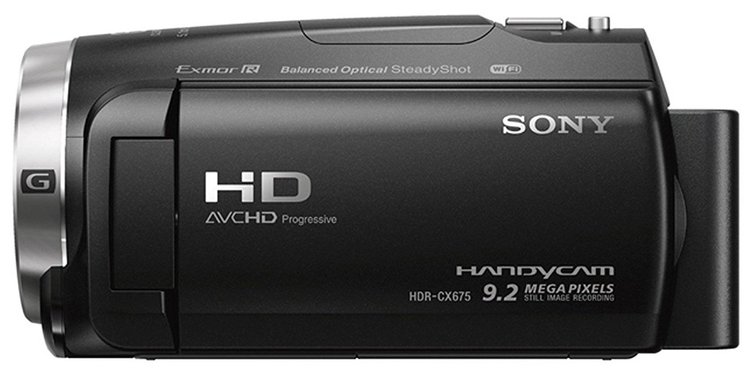 Pros:
Better image stabilization than its competitors
Sony's brilliant menu system
Dual recording in XAVC S or AVCHD format and another in MP4
Cons:
5.1 channel audio is only available when recording in AVCHD
Mobile app functionality isn't great
Battery life. Invest in second battery and use the USB charge
Test Footage by Chris Morley

Features
Full HD with XAVC-S, 9.2MP, Exmor R sensor, B.O.SS stabilization
G Lens (26.8mm), 30x optical zoom, 60x Clear Image Zoom
Minimum Focusing Distance:0.4″
3.0″ LCD (Touch panel), Wi-Fi/NFC, 32GB memory, Dual Video Format Recording
No camera top list would be complete without a Sony product. Sony's CX675 is a small unit like the Panasonic V380, with 1080p recording, 32GB SD memory, 3" LCD viewfinder and WiFi convenience.
Buyers looking for a compact, lightweight camera should note the 3" viewfinder, which the V380 lacks.
Vloggers or videographers who require shutter-less playback will find the image stabilization feature one of the leaders in its class. Sony has done a fantastic job achieving such stable playback on a camera in this class.
Video
Including an Exmor R CMOS image sensor that can record at 1080p up to 60fps and handle 9.2MP still images.
Sony's image stabilization illuminates shaking, making handheld videos steady as those taken from a tripod. 5-axis Intelligent Active mode compensates for vibration from up to 5 separate directions. Even running and bike movies seem smooth and high-quality. Even shooting at full 60x achieves excellent stabilization.
If you're a Vlogger with an audience that demands professional video, invest in a tripod add-on, and you'll produce the highest quality recording in your industry.
Inbuilt audio performs well, with background noise filtering. Mic and headphone input available.
The touchscreen performs well although the button functionality labeling could be improved. My only criticism is the close button sometimes takes a few taps to work.
Overall
If you want a camcorder with top grade optical features, zoom and stability look no further. The CX675 outperforms anything in its class.
---
#3. Panasonic HC-W580K Full HD Camcorder
Crystal clear Ultra-HD (4K) video recording


Pros:
4K video
Built-in WiFI
Tripod included with package
50x Zoom
Test Footage by HC-W580K

If 4K Ultra HD recording is on your wish list, look no further than the Panasonic 580K.
There aren't many camcorders in the sub five hundred range with 4K capable recording.
Overall
The best 4k camcorder under $500 from our testing.
---
#4. Canon VIXIA HF R72 Full HD Camcorder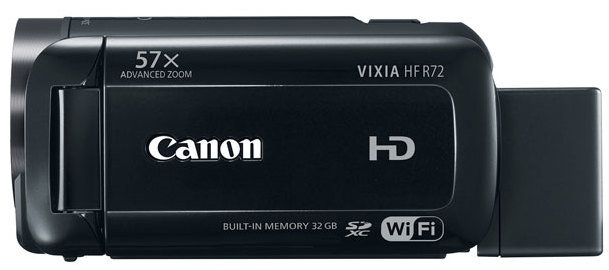 Pros:
Built-in WiFi
Optical Zoom 57x
Canon makes fantastic camcorders, and their R72 is no exception. It's a relative of the highly regarded R600 and R700, which are considered the top rated video cameras over the past ten years.
Overall
If you want a camera with high-performance zoom and digital stabilization that doesn't make the battery flat in 10 minutes – the Canon R72 will make a wise investment.
---
#5. Panasonic HC-V380K Full HD Camcorder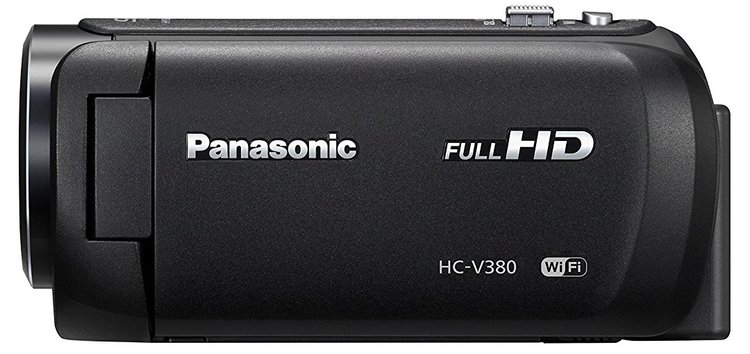 Features:
Super-sharp Full HD 1080p recording
Intelligent 90x zoom, with 5-Axis Hybrid Optical Image Stabilization, provides maximum handheld stability
Wi-Fi and NFC enabled for quickly sharing content and controlling camcorder features remotely
Wi-Fi mobile device Twin Camera feature adds multi-camera scene picture-in-picture recording
In-camera Creative Control and Intelligent Auto Plus modes enhance creative possibilities
If you want a camera that's ultra-portable, lightweight and easy to carry – the V380 is your perfect product.
Featuring full HD (1080p) video, and software zoom up to 90x (50x hardware). It's ideal for hiking or nature walks to take you wide and close up to the action.
The only drawback is no viewfinder, and the flip out LCD monitor can be difficult to see in bright conditions.
Overall
For well under the other four models in our top 5 list you'll get a camcorder that records terrific video quality and is so lightweight it won't make your arm sore.
---
What Are the Important Features to Look for When Buying a Video Camera?
There are several essential features which Video cameras require to perform. If you've only just started your search for the perfect handheld camcorder, we run through 5 functions which make our recommended products better than others.
Lens Video/Still
The lens on a video camera functions in the same manner as a still camera's lens. It draws light and captures the image at which the camera points.
Viewfinder
A viewfinder is your portal to what the lens is seeing from your environment, allowing the user to see how the recording will look. Cameras at this price should be expected to include a viewfinder, with cheaper products often missing this feature.
Ideally, your viewfinder will also be touchscreen, avoiding the need to toggle small buttons to tune your film settings.
Be sure to check that your Viewfinder is flip-out for added convenience. Viewfinders are usually designed to use as a small TV screen, for instant video playback.
Microphone
Nearly all cameras include an inbuilt mic, for audio recording straight out of the box. Mid-level camcorders have a mic-in jack, to allow buyers to upgrade their sound quality with an external microphone.
Microphones are mounted nearby to the lens hardware, to sync audio and video during playback.
Recorder
Our top-rated models in the review include dual recorder functionality. Dual recording enables owners to share small, 30 seconds to 5-minute videos via WiFI while recording a 2-hour Basketball game for example.
Recorder hardware processes the image received via the lens, and integrates audio with the microphone and saving to a format on a memory stick for later playback.
Control
Camera controls include essential features such as Power, Record, and video functions Play, Stop, Rewind, Fast Forward, and Pause. If you prefer to use a smartphone most mid-level camcorders have apps to control over WiFI.
Controls also connect directly to WiFi, USB or FireWire connection to a computer for easy playback and sharing.
Battery
If you're serious about videography, in my opinion setting up a system to manage battery power is essential. For challenging recording environments, it's recommended to invest in extended batteries, with a spare in case of emergency. Most cameras packages include a rechargeable battery. Confirm if the battery can be recharged via USB, as this is a common, and time-saving feature.
Most batteries are lithium-ion based, with a complete battery charge usually taking 3-6 hours.
Related posts