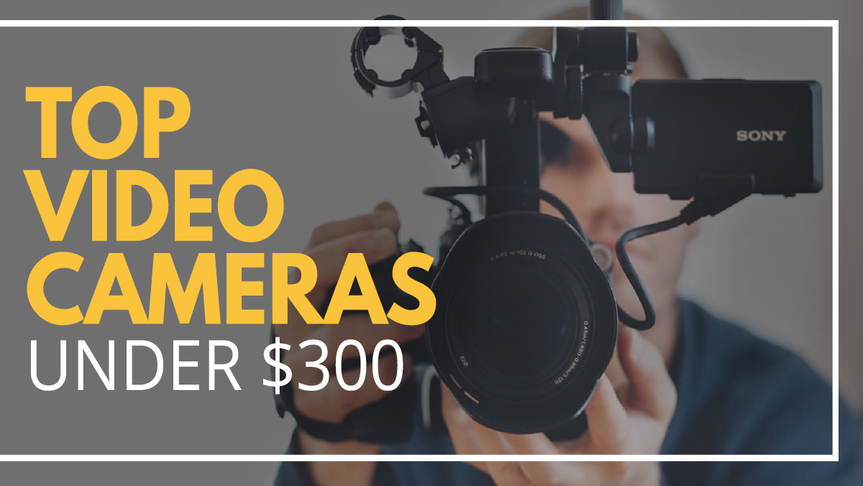 In this post, I'll take you through some of my favorite or Camcorders and Point-and-shoot products. These units all have functionality, reliability and most importantly record great quality video.
After going through our research, we have come up with a list of the 'Best Value Camcorders' of 2019. Buyers rate these models as better than the rest.
It's not easy to find an all-around camera suited for all of your specific requirements. If you are searching for the best cheap digital camcorders, we think you have come to the right place! Few other websites provide simple answers and reviews for the top affordable camcorder units.
Our selection criteria are stringent, and we update the Top 5 list when better Cameras hit the market.
The 5 Best Affordable HD Video Cameras under $300 (Full HD or 4K Ultra HD)
#1. – Canon VIXIA HF R800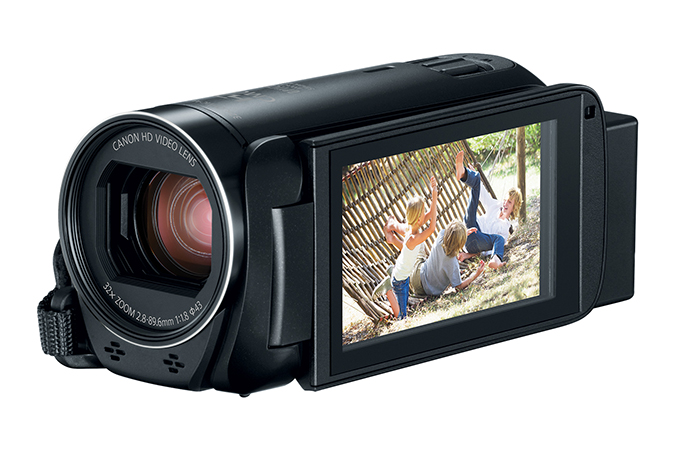 Pros:
57x (32.5-1853Mm) advanced zoom and Super Range OIS.
Cons:
If you prefer wide lens this is an approx $20 add-on
Features:
57x (32.5-1853Mm) advanced zoom and Super Range OIS.
Canon 3.28 Megapixel full HD CMOS image sensor.
Digic DV 4 image processor.
Minimum Focusing Distance-All other modes: 10mm (WIDE end), 1m across entire zooming range (from the edge of lens).
However, approx. 50cm at macro setting established at this time (automatic movement to TELE end).
There's no mistaking Canon makes some of the industries best camcorders. E-commerce sites like Amazon and eBay are full of top rating buyer reviews for Canon Camcorders.Over the past 5 years, sales of the R600 and its bigger brother the R700 have been amazing, with buyers voting with their wallets which are the leading budget camcorder.
As the R600/700 units discontinued, Canon has packed the R800 with the latest technology in their highly regarding video products.
With a 9.4-hour battery life, you can take the camcorder to any sporting game or camping trip and get enough 'uptime' to record all the special moments.
One specialty which makes even amateur videographer seem like an expert is the on-screen focus. This feature is called face tracking, which basically means that you touch the screen on any section and focus is automatically targeted there. I found it really useful when there's something in the center of your viewfinder to focus on. Regular autofocus software tends to get stuck in the background of your lens and s really quick and simple for anyone to use.
R800 Footage (1080p 60fps)

Speaking of the 3-inch viewfinder. Another feature which tops other cameras in the same price range is a rotational 180 degrees functionality.
Buyers such as vloggers or indoor recorders that require image stabilization, you won't be disappointed with the 64x advanced zoom which is one of the leaders across the sub-$500 price point. Vlog owners will also appreciate the inbuilt microphone.
Overall
Suits buyers who want a great camera with long battery life and superb footage – look no further. (during sales it's quite often priced under $250).
---
#2 – Panasonic HC-V180K Full HD Camcorder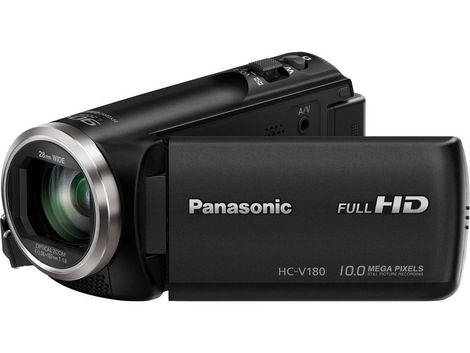 Pros:
50x zoom beats all other cameras on our top 5 list.
True-HD recording
Cons:
No mic jack – considering the limited inbuilt mic, this is the one disappointment.
Features:
Super-sharp Full HD 1080p recording
Intelligent 90x zoom, with 5 Axis Hybrid Optical Image Stabilization provides maximum handheld stability
Responsive touch screen on 2.7″ LCD
2-channel zoom microphone for clear audio at any distance
Panasonic video cameras have been market leaders for decades. If you're investing in a camcorder for sports games like Baseball, Soccer or Basketball, the HC-V180K model is my top recommendation. The 50x optical zoom is superior to any camera in the class. The True HD recording playback looks great on any TV.
Most camcorders in this price-range especially struggle to capture sports action with the zoom requirement. I record basketball and baseball games all year round and wouldn't consider another unit.
HC-V180K Test Footage Displaying Stablization

If you need to take the occasional still photo, the V180K won't let you down. Mobility is another benefit, with the unit fitting right in the palm of your hand. My 15 year old can easily use it.
With its simple to use control menu, my kids (8+ years) can easily use it.
Overall
If you need a versatile camera the fold out screen and switch to flip a cover over the lens works a treat.
A great price for a high-quality camcorder.
---
#3. – Sony HD Video Recording HDRCX405 Handycam Camcorder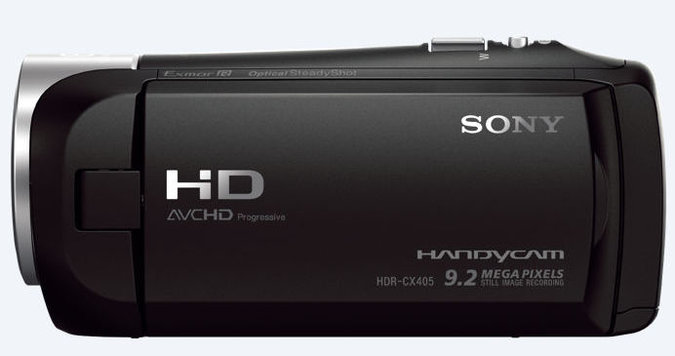 Pros:
Records in both XAVC and AVCHD, at 60 FPS
128GB memory SD card
Light and easy to use
Cons:
Doesn't have an external mic input.
Features:
50Mbps XAVC S™1 1920×1080 at 60P, AVCHD® and MP4 codecs. 30x Optical / 60x Clear Image Zoom to get closer to the action. 26.8mm wide angle ZEISS® Lens
Automatically creates highlight video in MP4 from multiple clips. Optical SteadyShot™ image stabilization w/ Active mode. Built-in USB cable for easy file transfer/charge
Face Detection with voice enhancement and noise reduction. Get creative w/ 7 picture effects for video and still photos
View on 2.7" Clear Photo Plus™ LCD display. Intelligent Auto (60 different scene combinations possible) , Focal Length (35mm) (Video) f=26.8 – 804.0 mm (16:9) Focal Length (35mm) (Still Image) f=26.8-804.0mm (16:9), f=32.8-984.0mm (4:3)$208
Due to its small sensor (1/5.8 inch), the Sony video quality isn't up to the standard of the Canon or Panasonic. Despite the recording standard, Sony has packed the HDRCX405 with features.
30x zoom performs and attached to an external display. 2.7-inch screen rotates full manual focus, exposure, Iris, and shutter speed.
The battery can be removed if using a Sony power brick (included) so that it can be recording for an indefinite amount of time. The camera records very well in low light because it has a backlight CMOS
The camera records very well in low light because it has a backlight CMOS.
---
#4. Onshowy Camcorder
Pros
1920*1080P/15FPS(FHD) Performance for Great Resolution
Night vision capability
Cons
Sound quality isn't good enough for some customers
Instructions included with purchase may be confusing
This affordable camcorder is a top seller and gets many great reviews. Its key selling point is its advanced technology. It features 1080 pixels for ultra-clear video resolution, as well as 15 frames per second for smooth shooting. As well, this model has a three-inch touchscreen and zoom up to sixteen times. It's nice to be able to access this type of technology for such a low price and this is the reason why this camcorder is so popular.
As well, we love the fact that this model comes with infrared night vision. If you enjoy shooting video footage in the evening, or in dim interior lighting conditions, you'll find that it's possible to get good results thanks to the night vision feature. Take photographs or video footage when it's dark in order to expand your creative horizons and get interesting effects.
Customers who were happy with the Onshowy Camcorder found its video quality superb. They also found the camcorder easy to use. Those who were less happy found the audio performance mediocre. A few had trouble understanding the instructions which came with their Onshowy camcorders.
---
#5. – Hausbell HDV-5052 HDMI 1920x1080p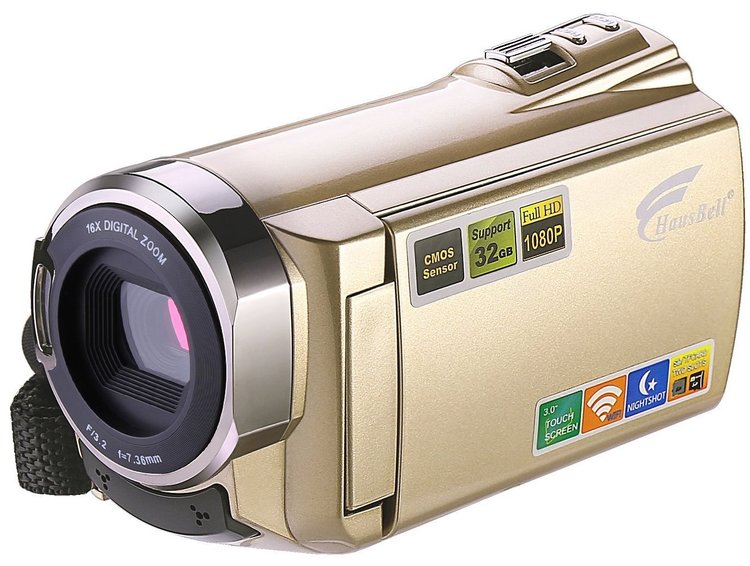 Pros
Real-time broadcasting
Wi-Fi Function
Cons
Microphone quality may disappoint
Zoom feature has gotten complaints
When you choose this popular and inexpensive camcorder, you'll access real-time broadcasting. This means that you'll be able to record special events and then share your video footage with contacts worldwide, as special events happen. Record in full high-definition. Capture interior scenes and nightscapes, too! You'll love the way that this real-time broadcasting feature makes it simple to share footage with others.
As well, this model has Wi-Fi function. If you want the power to transfer video footage to a computer on a wi-fi network, you'll find that this camcorder has the right connectivity features. You won't need cables in order to get the job done. Your Wi-Fi network will also recognize the camcorder as a device on its network, which makes for simple streaming of video to televisions, media players, and monitors.
Customers who reviewed this affordable camcorder positively appreciated its high-tech features, including real-time broadcasting and Wi-Fi. They also liked the fact that it's lightweight, as it's comfortable to hold. Those who were less pleased with this model found that its microphone quality was not good. A few people wished that the instructions included with their camcorders were simpler to understand.
---
#6. – YI 4K Sports and Action Video Camera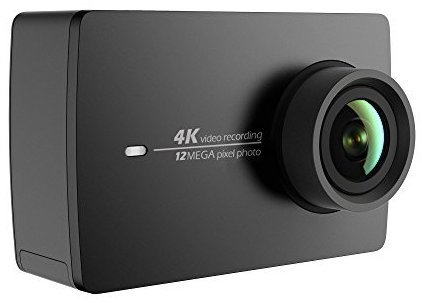 Pros
Durable Gorilla Glass Touchscreen
Resolution is four times better than 1080p
Cons
Some buyers had issues with SD card compatibility
Sound issues have been reported
If you're looking for a camcorder which features durable construction, you'll love the YI 4K. Its touchscreen is made from ultra-tough Gorilla Glass, which is very hard to damage or break. Gorilla Glass is two times more likely to remain intact after drops than comparable forms of glass. This glass comes from Corning and it does provide a lot more strength than typical camcorder touchscreen glass.
As well, this model will record 4K/30 frames per second at 60 megabits per second. This is four times 1080p quality. If you want superb resolution, without needing to spend a lot of money, you'll appreciate the technical specifications of this model. It offers a lot of bang for the buck in this important area.
People who bought this affordable camcorder and liked it appreciated its long battery life (about two hours from a single charge), as well as its clear resolution. Those who weren't as pleased with this model usually reported SD card compatibility issues which were sometimes difficult to sort out. Also, some buyers complained about sound quality.
---
Now that you have the inside scoop on the top rated affordable camcorders, why not order one for yourself today? You don't need to spend a bundle to get a new camcorder!
Tips On How You Can Find a Top-Rated Affordable Camcorder
What features should you consider when purchasing low priced camcorders?
1. Look for a Wide-Angle Lens
If you prefer to shoot videos in the widescreen format you'll require a wide-angle lens. Nowadays, people are watching YouTube videos on their High Definition Televisions and most of them are built for widescreen viewing.
Wide-Angle lenses magnify the distance between objects between the background and foreground and. As a result, videos feel bigger and more impressive. Additionally, widescreen formatting is preferred by many viewers over the older pan-and-scan narrow ratio.
2. Good Optical Zoom Is Important
A great optical zoom will show you where you should focus your shot in the viewfinder. The beauty of the zoom focus is that you can use to know how each shot will appear before you begin filming.
You should avoid shooting grainy or blurry video, and that is why checking the range of your video camera is so important when zooming into an object or subject that is located far away from your location.
An optical zoom is a useful tool whether you're filming up close or from a distance.
3. High-Definition Video Recording Is A Must
Nowadays days people watch High Definition YouTube videos on their laptops, tablets, smart TVs and smartphones.
High-definition recording produces a crisp and detailed resolution for professional quality videos. To create the type of video that your audience long for, you must ensure that your vlog camera is capable of recording in High-Definition.
4. Be Aware Of Camera Size And Weight
Once you have found a video camera that is right for your budget, the next factor that you should take into consideration is its size and weight.
If you frequently shoot video footage while active, you'll want a light camera which is portable and easily fits in your pocket.
5. Built-In, High-Quality Microphone Is Important
The quality of the audio is also important when creating videos for vlogging, hence you should ensure that your digital camera has a high-quality in-built microphone.
Inbuilt microphones filter background noise, but it's better to get a video camera that has an extension for an external microphone. External microphones enhance audio quality, and it is true that you might not be able to get the best audio quality without one.
Last Thoughts
If you're in the market for a low-priced camcorder, you should know that this guide will take the guesswork out of comparison-shopping. We know which features are most important and we've found some styles that really deliver for budget-conscious consumers. Once you've perused our handy buyer's guide, you'll be one step closer to finding a model which is perfect for your needs.
You'll be safe going with any model that we recommend! To find the top rated affordable camcorders, we looked at customer reviews, compared features and considered brand reputation. We've covered all of the bases in order to empower you as a consumer. When you use our guide as a reference, you'll find that it's easier to get exactly what you want. We've done the comparison shopping for you!
Related posts